Allergy Friendly Laminate Floors Are Ideal For Dust Allergy Sufferers
An increasing number of people are affected by so-called "house dust allergies"; in fact an allergy to the excrement of the dust mite. Above all, floorings which favour the accumulation of dust and which therefore create the habitat for the mites are problematic for these people. By the way, the tiny animals are not only harmful for allergy suffers, for example, they can trigger allergies in healthy people. Every fourth adult and every third child already suffers from house dust allergy; if it is not attended to it can develop into asthma.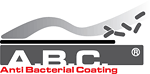 As an alternative, laminate floorings from EUROSTYLE are allergy friendly floors providing the feature of A.B.C. Anti Bacterial Coating; a surface that does not allow for germs to grow on your flooring. Germs can be present on a floor from many sources such as shoes, spills or animals etc, but EUROSTYLE A.B.C. Anti Bacterial Coating, works alongside a hygienic cleaning regime, to create peace of mind and a healthy environment.
Due to their greater hygiene compared to carpeting, laminate floorings are not only ideally suited for allergy sufferers. Families with babies and toddlers also benefit from the clean floor, because babies who crawl through the home quickly pass their hands from the floor to their mouth. It is therefore especially important to keep the floor as free of fungi and bacteria as possible.
Laminate floorings from EUROSTYLE are easy to keep clean and are also free of substances which trigger allergies, for example wood preservatives, formaldehyde, chloride and PVC. When you decide in favour of laminate floorings from EUROSTYLE, you give your individual style more space and at the same time take away the habitat of troublesome dust mites and bacteria. EUROSTYLE allergy friendly laminate floors are available in Metro Vancouver and across Canada.